Allotment News
Occasional Articles and Allotment chat and comments.
Current News Headlines
open all
open...
14th Feb 2020
Only the weather stopping us now
Repairs to the bottom road have gone well, and it's nearly ready. However the new storm coming in over the weekend will not only stop the finishing work, but make the remainder of the road too soggy to use.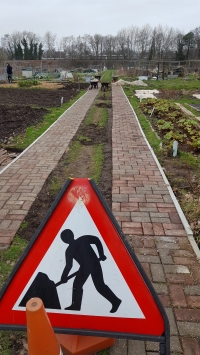 open...
11th Feb 2020
Planting up public areas
Correction to the time of the meeting - 2:00pm, not the previously shown 1pm.
There is a new group set up in West Byfleet, West Byfleet Community Garden Group. Its intention is to plant up public areas with cultivated and wild plants for the benefit of both wildlife and human residents.
They are holding a small planting day on 21st and 22nd February 10.30-13.00 outside Seymours in West Byfleet. Bring your own tools and any appropriate bulbs and similar.
There will also be an open planning meeting on Monday 2nd March at 14.00 at West Byfleet Library. WB allotment holders would be very welcome to participate at both. Please advise Louisa Bergman of intended attendance via email: loubergman AT hotmail.com
open...
2nd Feb 2020
Open every Sunday from 10:00 - 12:00 until end of June
The trading hut is open again every Sunday until the end of June.
Come on in and see the new stock, opportunity to chat and of course pay your rent.
Remember if there is something you want to buy outside of our Sunday Trading times, just ask a committee member who can open up and sell to you.
open...
15th Jan 2020
The aftermath of a working party
Work has started this January to repair the next section of the bottom road. A working party lifted cleaned, sorted and stacked the existing brick ready for relaying.
Hopefully the repair work can get done by mid-March
open...
27th Jul 2018
Sunday 5th August 2018
Cakes, Jams, produce refreshments and a chance to wander around the 150+ plots.
All proceeds from the day will be going to Woking and Sam Beare Hospices. Last year we raised over £500, please help make this year a success too.
How to find us
West Byfleet Allotments is at the end of Leisure Lane off Camphill Road, West Byfleet - KT14 6HF is as close a postcode as there is.