Allotment News
Occasional Articles and Allotment chat and comments.
Current News Headlines
open all
open...
21st Mar 2020
We are Staying open for now - Growing as Usual
Allotments & The Virus
It is OK to come to the allotments unless you are feeling unwell. Please observe the government's advice about contact etc. Additionally there are several plot-holders who fall into the vulnerable class. It is our collective responsibility to ensure we don't put them at any more risk. Use wipes on the gate lock if you can or alternatively wash your hands. We cannot take on the task of sterilising the allotments - it's just not workable, it has to be down to you the individual - so we ask you all to be responsible.
The Trading Hut
The Trading Hut will open as usual on Sundays, and available during the week if you can find a committee member to open it up for you.
Temporary Toilet.
We are still planning to have the portable toilet on-site between May and the end of August. It will get serviced by the supply company once a week, and in-between those times we are asking you to ensure it stays clean for others to use - use wipes if you have them.
Oak Processionary Moth
Last year there were reports of Oak Processionary Moth (OPM) in the area, and it expected the infestations will continuing to spread across London and Surrey. Oak trees around allotment plots are particularly partial to infestation. OPM's are known to cause skin rashes and should be reported if spotted. Please keep an eye out and report any sightings to the Council and a committee member if the sighting is on or near the allotments. Find out more here:
https://www.gov.uk/government/news/public-urged-to-report-oak-processionary-moth-caterpillar-sightings
The OPM caterpillars start emerging in April from eggs laid in Oak trees the previous summer.
open...
14th Feb 2020
Only the weather stopping us now
Repairs to the bottom road have gone well, and it's nearly ready. However the new storm coming in over the weekend will not only stop the finishing work, but make the remainder of the road too soggy to use.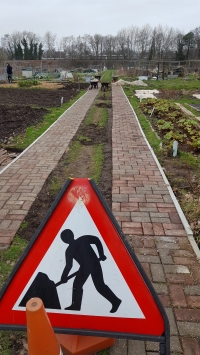 open...
11th Feb 2020
Planting up public areas
Correction to the time of the meeting - 2:00pm, not the previously shown 1pm.
There is a new group set up in West Byfleet, West Byfleet Community Garden Group. Its intention is to plant up public areas with cultivated and wild plants for the benefit of both wildlife and human residents.
They are holding a small planting day on 21st and 22nd February 10.30-13.00 outside Seymours in West Byfleet. Bring your own tools and any appropriate bulbs and similar.
There will also be an open planning meeting on Monday 2nd March at 14.00 at West Byfleet Library. WB allotment holders would be very welcome to participate at both. Please advise Louisa Bergman of intended attendance via email: loubergman AT hotmail.com
open...
2nd Feb 2020
Open every Sunday from 10:00 - 12:00 until end of June
The trading hut is open again every Sunday until the end of June.
Come on in and see the new stock, opportunity to chat and of course pay your rent.
Remember if there is something you want to buy outside of our Sunday Trading times, just ask a committee member who can open up and sell to you.
open...
15th Jan 2020
The aftermath of a working party
Work has started this January to repair the next section of the bottom road. A working party lifted cleaned, sorted and stacked the existing brick ready for relaying.
Hopefully the repair work can get done by mid-March