Allotment News
Occasional Articles and Allotment chat and comments.
Current News Headlines
open all
open...
26th Sep 2011
The waiting list of new people wanting an allotment continues to grow. At the time of this article there are 34 people on the list.
In West Byfleet we turn over around 3-4 plots a year, so someone at the bottom of this list could have a long wait. This is moderated by the fact that by the time someone gets to the top of the list, they have either changed their mind, or found a plot on another allotment site. Which all makes it quite difficult to predict how long the wait it.
open...
22nd Aug 2011
Pat Barnes Stables Saturday 4th September
Pat Barnes stables on the old Woking Road are holding a farmers market on Saturday 4th of September.
All proceeds are going to Help The Heroes.
To help with this they are asking anyone with surplus produce to donate to their stalls and deliver to them by Friday evening, or turn up on the day.
You can contact the stables on: 01483 720708
open...
29th Jul 2011
Swap your excess on Sundays - a trial
Summer Swap Shop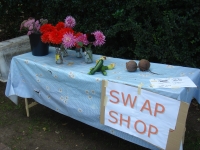 When: Sunday mornings 10:00 to 12:00 starting this Sunday 31st July - ending sometime in September
Where: Outside the Trading Hut, W Byfleet allotments
What: A opportunity to bring and take - excess plants, crops etc.
How Does it Work
There will be a table set up outside the trading hut for you to leave excess plants and produce you can find no other home for. If there's something there you are short of and will make good use of, then feel free to take away.
As a trial, there are no rules other than common sense.
The process works on swings and roundabouts - if you don't have anything to swap on the day, but can use what's there, then take your share - another day when you have something to swap you can leave it on the table.
It's all about not wasting and being reasonable.
A member of the committee will be available or nearby to help.
Leftover items at the end of each Sunday will be donated to a local charity/home etc.
Summer Sale
To clear stock we are selling off growbags and compost - it all bought fresh this year.
Compost: 2 for £10
Growbags: 3 for £5 While stock lasts.
open...
28th Jul 2011
Have you sprayed yet?
An increasing number of plot holders are getting blight on their potato and tomato plants.
This blight is an airbourne fungus that gets a grip in warm damp conditions. You may be able to keep it at bay by spraying with Bordeaux mixture every couple of weeeks from June onwards, but it's no gurantee.
Unfortunately, once it's got a hold there's no stopping it. Advice from experts is to destroy affected plants by burning them. Or taking them to Martyr's Lane tip, as their composting system will almost certainly generate sufficient heat to destroy the spores.
Do not put affected plants in your compost - the spores can live at least three years, and so the compost will infect future plantings.
open...
23rd Jul 2011
Results Now Available
The results of the Tunis Cup have been published early this year.
Overall Best Kept Allotment Site
(Points are out of 60)
1. Derry's Field 50
2. Knaphill 48
3. Winern Glebe 46
4= West Byfleet 44
4= Goldsworth Park 44
5. Sheerwater 43
6. Eden Grove Road 33
7. Maybury 26
Last year West byfleet came 4th.