Allotment News
Occasional Articles and Allotment chat and comments.
Current News Headlines
open all
open...
20th Jun 2011
Tunis Cup Judging Set for 29th June
Each year Woking Borough Council run an allotments competition, the Tunis Cup.
Categories are:
Overall Best Kept Allotment Site
Ted Smith Shield (best plot in the borough)
Leam Challenge Shield (Best 1st year plot holder)
Benstead Scroll (Best cultivated plot for an over70 year old)
Ashley Slococock Prize (Best ladies plot)
This year judging will be done on the 29th June. The results will be announced in the autumn.
open...
15th Jun 2011
Sheerwater Scouts Make Weeds Part of History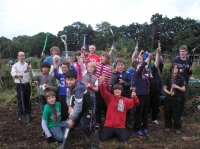 As part of their community badge, Sheerwater Scouts turned up with forks spades, trowels and (of course) shears for an allotment evening.
Twenty one scouts with energy and enthusiasm to spare helped clear a weed ridden plot for a grateful plot-holder.
The photo show them at the end of the hours dig having cleared away weeds that were over a metre high. See the photo gallery for scouts in action.
Well done and thanks everyone!
open...
30th May 2011
Surprisingly fast slow-worms in our nature reserve
Slow-worms love compost heaps, where they breed and live. They are not snakes, but a member of the lizard family and love eating slugs.
If you find them on the allotments (or anywhere else for that matter) please remember, they are quite harmless, don't bite, and are a protected species. Like all interesting wildlife they flourish better by being left be, and in return they will help you in the fight against slugs.
Have a look at another photo on the gallery page.
Although slow-worms have been on the allotments for as long as people can remember, their numbers were boosted a few years ago when building work started on the (then) new Mclaren's site outside Woking. Nature conservationists relocated a number of slow-worms found at the site to West Byfleet Allotments, as it was seen as a suitable environment for them.
open...
16th May 2011
Sheerwater Garden and Allotment Association
Sheerwater Garden and Allotment Association present their Annual Spring Garden Plant and Produce Sale
Locally grown flower and vegetable plants and produce. Homemade Jams, Pickles and Chutney Cakes, Scones and Pastries
SUNDAY 22nd MAY 10.00am till 1.00pm
Bring your friends and come along to the Hut at the Allotment Site, Albert Drive, Sheerwater (opposite Hanbury Path)
If, like many of us you are wondering whether West Byfleet Allotments should be organising plant sales/swaps, excess produce, seedlings, fruit sales/swaps, then please use the contact form to send in your ideas.
open...
3rd May 2011
Emergency Services called out to W B Allotments
At around 6 pm on Monday 2nd May a passenger on a passing train (off duty copper) spotted a body in orange shorts and a black top lying in the allotments with a shiny metal object in his hand. He called the emergency services who rushed to the scene.
An ambulance and two police cars arrived and started a plot by plot search for the victim.
Unable to find a body, they then approached one of the plotholders (name and plot number withheld) - in orange shorts and a black top - to begin their questioning.
Q. "Where you lying on the ground not long ago?"
A. "Yes"
Q. "And did you have a metal object in you hand?"
A. "Yes - this trowel - I was getting weeds out with it."
Q. "Are you alright?"
A. "Yes. I was just weeding - I find it more comfortable to lie down when I weed."
Case solved. Sighs of relief all round.
So it just goes to show:
- weeding might not be quite as dull as you thought;
- there are caring people passing on those trains - perhaps we should wave at them;
- the emergency services know where the allotments are and how to get to them.
On a more serious note should you, or someone you come across, need urgent attention, use your mobile 'phone, or get help from the nearest source - Stoops Court or the Social Club (staffed from 7am).
If you go to the allotments on your own always take your mobile 'phone.
Thank you to that caring person on the train for taking the trouble. Please don't let it put you off another time.