Allotment News
Occasional Articles and Allotment chat and comments.
Current News Headlines
open all
open...
1st May 2021
Water Conservation
Water is a vital resource and the water troughs around the allotment may look like a free supply for you to help yourself, but it's our most expensive extra cost - both in terms of money and the environment. Have a look at our Tips and Ticks page on conserving water.
A reminder that hoes pipes are not allowed - either to connect to the water system or to syphon water off from the troughs.
New Members
Recently we have had a turn over of plots and new members are starting out. Why not say hello and make them feel welcome.
Site Security
Please remember to keep the main gates to the allotment closed at all times. Unwanted visitors who dump rubbish and do damage need to be discouraged by closed gates.
Help Wanted
Currently we don't have anyone maintaining the wheel barrows. If you come across one that needs repairing, put it to one side or think about repairing it yourself.
Grass Cutting
Yet another reminder - as a plot-holder you are responsible for maintaining the paths and road verge around your plot. And if you have your mower and strimmer out, why not mow your neighbours plot or the centre of the road near you too. Every little bit helps.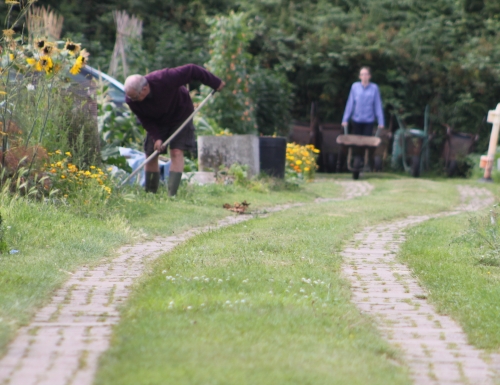 open...
22nd Jan 2021
Trading Hut
The Trading Hut will be opening again this year on Sunday 7th February and each subsequent Sunday until late June. Opening times are 10:00am to 12:00 noon. Outside of these hours you can purchase items by arrangement with a committee member.
Fresh stock is due to arrive before we open, and this year we will have some bags of peat-free compost as well as our normal compost.
Please wear a face mask when coming to the hut. We will be operating a counter only service using a pasting table across the doors.
Payment for items can be made with cash or by bank transfer. We do not have a card facility but I will take cheques if necessary.
Rent for 2021
Rents for this year are now due. plots fees are the same as last year:
Full 10 rod plot: £48.00
Half plot: £24.00
Quarter plot: £12:00
In addition to your rent is the annual membership fee, which for 2021 is £1.00.
You can see your total rent due by logging into the members' area of the web site and going to the "Your Details" page. If you are sharing a plot the rent shown is for both of you, not just your share - please don't pay twice.
Rent can be paid in the Trading Hut or by bank transfer. If paying by bank transfer please ensure you use your name and/or plot number as the reference so we can identify the payment as yours.
Snow
Tip: If you have a fruit cage or other veg covered by netting, be aware that any heavy snowfall can damage the cage as this photo from a few years ago shows.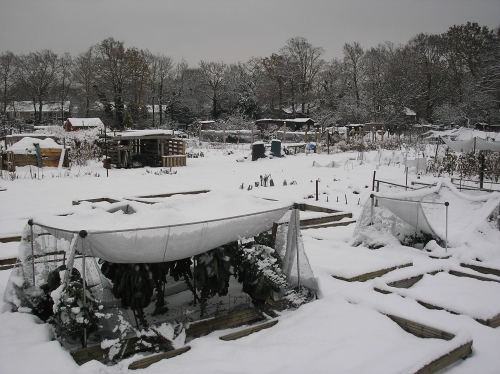 Snow hammocks over brassicas
open...
20th Dec 2020
Help to keep our allotments a safe place.
The allotments are still open BUTÖ we are being told this new variant of the virus is significantly more transmissible and therefore please take extra care - gates, water tanks, and all common facilities etc.
Additionally:
You should not mix at all;
Ensure social distance rules are strictly followed;
No visitors please.
If you have any symptoms please do not come to the allotments - let's help to keep each other safe and the allotments open.
Thank you and enjoy your Christmas as best as you can.
Let's hope next year is somewhat better!
open...
6th Nov 2020
Lockdown (again)
The allotments are still open. Please behave responsibly - we are all in this together and need to get through it together. Stay up-to-date by checking the National Allotments Society Coronavirus news page
AGM
This year's AGM will be done via email. This email will hopefully go out on 20th November and contain the usual reports. Please look out for it.
If you have questions you need raised on the reports or other matters, please then email them between 20th and 30th of November. A response to all questions will then be sent out to you all via another email. The documents sent out and the questions and responses will form the minutes of the AGM.
Work Parties
The pandemic has meant that we have had to make changes to our plans for the coming year. Unfortunately it will no longer be possible to convene working parties for the foreseeable future, but you can still help in several ways.
In the case of the ditches we would ask that in the week ending 1st December, at a time to suit yourself, you help by removing leaves from the ditch bordering Dartnell Park. Additionally if you have a plot backing on to Stoop Court, please cut back any weeds to the boundary fence.
Thank you.
open...
14th Sep 2020
This newsletter covers some negative items, so we have added some more positive bits to help keep the balance right. It quite a long one this time, but please do take time to read it.
Theft of Pumpkins
Last week a plot-holder had his large pumpkins stolen. Sadly, I can only think that this must be one of our members, as they were too large to be easily carried away. Please report anything you see or at least ask if they have permission, as stealing from other plots must not be tolerated.
Bonfires
I know the recycling centre at Martyr's Lane is awkward currently, and so it's tempting to consider burning garden and allotment waste, but please don't. Bonfires are not permitted from 1st April through to the end of October.
That having been said, the Site Manager, is considering having a communal bonfire for pruning's and waste timber that you may currently have on your plot. Further details will be issued next month.
A Good Year for Growers
Despite everything, and that includes the long dry spells and the inevitable watering, it has been a good growing season and being lucky enough to be allowed to come to the allotments and enjoy the space during these challenging times has been invaluable.
Social Distancing and Collective Responsibility
Like me, I expect you are fed up with news about how to behave because of the virus. Please, at the allotments as with elsewhere, keep up the safety and care, both for yourself and for others.
Waiting List and New Members
The lock-down has had the effect of trebling our waiting list, and we have been trying hard to allocate plots to new members, so if you see someone new near you, do say hello and welcome them to the site.
Of course a long waiting list means plots are at a premium. If you are unable to spend enough time at the allotments due to the lock-down or other temporary reasons, please just let us know - we understand.
Tips and Advice for Allotment Holders
It has been suggested that we could all contribute tips. To start this off Steven Cardis has submitted one for asparagus growers. If I get more, then I'll publish them on the web site. As with all tips and hints - you may well have a better method...?
Asparagus Tips
Many plot holders grow asparagus some more successfully than others and here are a few tips to help us improve our crops. This advice includes that from the RHS and further guidance is available on their web site
Asparagus originate from sand dunes. So they need a sunny site with a sandy soil for good drainage. So a raised bed may help, especially on plots with poorer drainage As they need time to mature and should be left for many years, good soil preparation is essential. Especially removing perennial weeds
To grow, buy good quality crowns which are one year old male plants and mulch ground to suppress weeds. Follow RHS and other advice in particular add fertiliser in spring at 100g sq m. and weed carefully not using hoe to avoid damage to plants. You can also feed at end of summer to boost the plants. Stake tall feathery plants to avoid wind damage.
Asparagus beetle is a major pest and found on many of our plots but needs controlling to avoid serious damage. Although they can fly many plots are free of the beetles when next door is badly affected, so the main issue is dealing with your own infestation. From May through to August pick off and kill to prevent damage. They lay eggs on the stems which grow into grubs that devour your plants. You should remove eggs. To prevent beetles make sure in autumn to cut down the plants below ground level and remove all stems. The beetles live in the dead stems or other debris. To kill larvae in March treat with nematocides. Not cheap but effective and once killed off should not need repeating - just pick off any beetles you see. There are organic sprays such as Bug Clear but these are less effective.
Although some effort is involved it will repay with years of tasty crops in May when not much else is cropping - and they donít need watering!